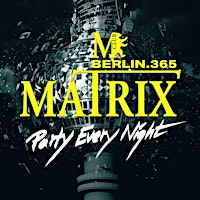 Matrix Club Berlin
Der Matrix Club Berlin ist dein Freiraum zum Feiern: an 365 Tagen mit 7 Areas, 9 Bars und diversen Lounges mitten in Berlin.
Ultimative Partynächte mit internationalem Clubsound locken Berliner Nachtschwärmer ebenso wie Gäste aus der ganzen Welt Nacht für Nacht in die denkmalgeschützten Gewölbe unter der Berliner Hochbahn. House, Hip-Hop oder Electro? Im Matrix ersetzen wir das "oder" durch das "und" – und schließen R´n´B, Soul, Pop,
Deep&Progressive House, Moombathon, Techno und Dance Classics mit ein. Audio? Max!
Bunt, extrovertiert, leuchtend, springend, laut, verrückt, elektrisch, poppig, neu, überraschend, mittendrin und immer anders. Eine Bühne für wilde Partys, durchtanzte Nächte und intensive Begegnungen. Menschen, Fashion, Beats – wir re:mixen die Nacht.
Der Matrix Club Berlin schlägt im Herzen der Party-City Berlin´s zwischen Universal, Mercedes Benz Arena und Simon Dach-Viertel direkt unter der U-Bahn Station Warschauer Straße. Best Nightlife, täglich ab 22:00 Uhr.
 ______________________________________________________________________________________
The Matrix Club Berlin is your freedom to celebrate: on 365 days, with up to 7 areas, 9 bars and various lounges in the middle of Berlin.
Ultimate partynights with an international club sound lures night after night Berlin night owls as well as guests from all over the world into the historical vaults under the Berlin subway which runs above
here. House, Hip-Hop or Electro? In the Matrix, we replace "or" with "and" – and include R´n´B, Soul, Pop, Deep & Progressive House,
Moombathon, Techno & Danceclassics. Audio? Max!
Colourful, extroverted, luminous, jumping, loud, crazy, electric, trendy, new, surprising, always in the middle and always different. A stage for wild parties, danced nights and intense encounters. People,
fashion, beats – we´re re:mixing the n
---