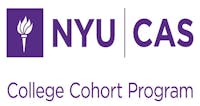 CAS College Cohort Program and Office of New Students
Welcome to the College of Arts & Science (CAS) at NYU! Whether you are a new first-year or transition student, the Office of New Students is here to welcome and support you within the CAS community. Throughout this transition, we are here to answer questions, connect you to resources and provide outlets that help you find your place at NYU.
One of these resources is the College Cohort Program; a school specific program that provides all CAS first-year students the opportunity to build a small community within CAS that is diverse in intellectual range, serves as a crucible for debate and scholarship, and fosters a welcoming and supportive home.  Each cohort will focus on three key principles: College Life, Academic Inquiry, and Service. Click here to learn more!
---
No upcoming event