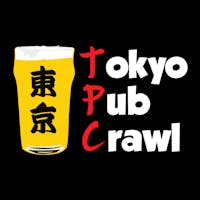 Tokyo Pub Crawl
Oh my! You've found the Tokyo Pub Crawl.
We're a regular group of pub crawlers in Tokyo. It all started about 5 years ago, with a few buddies from work getting friends together to grab some beers on the weekend. We thought it would be fun to visit many bars in one night.
東京パブクロールのページへようこそ!
東京パブクロールとは、バー巡りのことです。スタッフがグループを仕切り、友達同士、初対面同士、旅行者などが共にバーやクラブを巡りながら一晩の交流を図るものです。
Over 450 events with thousands of pub crawlers joining, and we're still going strong!! 
Check out our main website at: 
tokyopubcrawl.com
How did we become so big?
Like any other small company, we started off with little numbers, but eventually, more and more people started coming and things started getting crazy. We noticed a few changes:
Many people coming didn't know anyone. They just showed up because it sounded fun.
The crowd became more and more diverse: Japanese, non-Japanese, guys, gals, and people from every corner of the earth.
By the end of the night it was one big group of happy friends (and many times more than friends!)
We thought that was cool because Tokyo is a huge city with tons of people, yet many people feel somehow isolated. When we do a pub crawl, people come together, and we wanted to open it up.
Part of it has to do with the fact that we keep moving and changing the scenery. It makes the evening feel more like an adventure. Another reason is everyone who comes has the same expectation: to have fun and be social. It's a good combination.
If you're living in or visiting Tokyo, you're more than welcome to join us. Some people dance, some people sing, some are quiet, some come for the cheap drinks, some people just don't stop talking... :) Most are somewhere in the middle. But everyone is there for a memorable experience they won't soon forget. Come join us!
東京はたくさんの人で溢れてる大きな街だけど、孤独を感じることもあります。パブクロールを開催することによって人が集まり、性別や国籍など関係なく、みんながひとつの大きな友達のグループになれます。
集まる人はみんな、友達を作りたい、交流したい、楽しみたいなどと同じ目的をもって来るので本当に社交的でフレンドリーなイベントです。また、一晩で何カ所かのバーやクラブに行くので、冒険している気分も味わえます。
東京に住んでいる方、旅行している方、どなたでもご参加いただけますのでぜひご参加ください:)
Heres a video that explains exactly what we do and what you get!!!!
*****EVENTS EVERY FRIDAY AND SATURDAY******
Please let us know, if its your birthday, anniversary, graduation, anything!  We are big on celebrations and we want to help make it memorable, We ill also be taking photos of the night. 
  We are bar tour that goes to 2/3 bars per event and end at a club.  We work with with over 25 bars/clubs to give you a different and unique experience every time you decide to join us. We have events mainly in Roppongi, but we also work with venues in Shibuya and Azabu-Juban.
Here is an article about us in the Japan Times and Tokyo Cheapo. Click the link or the picture.
東京パブクロールについての記事です。クリックしてチェックしてみてください。
http://tokyocheapo.com/food-and-drink/tokyo...
http://www.japantimes.co.jp/life/2013/12/31...
Have a look at some pictures and videos from previous pub crawls for a better idea.
東京パブクロールをもっと知るために、以下のイベントの写真やビデオを見てみてください。
Please add us on LINE.    For questions, updates, and event info.
---