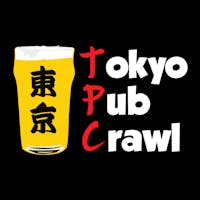 Tokyo Pub Crawl
Oh my! You've found the Tokyo Pub Crawl.
We're a regular group of pub crawlers in Tokyo. It all started about 5 years ago, with a few buddies from work getting friends together to grab some beers on the weekend. We thought it would be fun to visit many bars in one night.
東京パブクロールのページへようこそ!
東京パブクロールとは、バー巡りのことです。スタッフがグループを仕切り、友達同士、初対面同士、旅行者などが共にバーやクラブを巡りながら一晩の交流を図るものです。
Over 450 events with thousands of pub crawlers joining, and we're still going strong!! 
Check out our main website at: 
tokyopubcrawl.com
How did we become so big?
Like any other small company, we started off with little numbers, but eventually, more and more people started coming and things started getting crazy. We noticed a few changes:
Many people coming didn't know anyone. They just showed up because it sounded fun.
The crowd became more and more diverse: Japanese, non-Japanese, guys, gals, and people from every corner of the earth.
By the end of the night it was one big group of happy friends (and many times more than friends!)
We thought that was cool because Tokyo is a huge city with tons of people, yet many people feel somehow isolated. When we do a pub crawl, people come together, and we wanted to open it up.
Part of it has to do with the fact that we keep moving and changing the scenery. It makes the evening feel more like an adventure. Another reason is everyone who comes has the same expectation: to have fun and be social. It's a good combination.
---