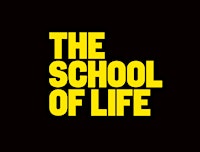 The School of Life Berlin - BD Culture & Education GmbH
The School of Life widmet sich den großen und wichtigen Fragen des Lebens und der Entwicklung emotionaler Intelligenz.
Unser vielfältiges Programm bietet Ihnen in Seminaren, Vorträgen und Events Ideen, Inspirationen und Rat u.a. aus Philosophie, Psychologie, Psychoanalyse, Literatur und Kunst für ein gutes, kluges Leben und Ihre persönliche Weiterentwicklung. 
---