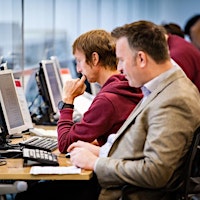 The National Archives: for groups
The National Archives is the official archive and publisher for the UK government, and for England and Wales.  We are the guardians of some of our most iconic national documents, dating back over 1,000 years.
We can accommodate many different types of groups, including schools and higher education groups. Pre-booking a group visit is not required, but one coach bay - any group wishing to travel to The National Archives by coach must pre-book our coach bay and can only be used by the booked coach.
If the coach bay has already been booked on the day of your visit, we allow coaches to drop off and pick up passengers onsite, however they must park offsite.
There are no coach parking charges.
 The coach bay is operational Tuesday to Saturday between 08.30-20.00.
 From January 2019 there will be three bookable timed slots, if you want to book the bay all day please note you will need to make a booking all three timed slots. The only exception to this is on a Saturday, when it is bookable as an all day slot.
 To check availability and book a bay, select the month of your visit and then the date. If available, you will be able to proceed with your booking. Further information (including directions and what to do when you arrive) will be provided in the confirmation email that you receive after completing your booking.
School groups should also make a separate booking for our education service - we advise that you check availability before booking your coach space.
---