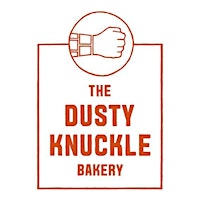 The Dusty Knuckle Bakery School
***THE SCHOOL IS CURRENTLY CLOSED DUE TO THE LATEST GOVERNMENT RESTRICTIONS REGARDING COVID-19***
The Dusty Knuckle is one of London's leading sourdough bakeries, providing freshly baked bread and pastries to some of the city's best restaurants, cafes and shops. Opened in 2014 in an empty shipping container, the bakery has now moved into a permanent space with a buzzing cafe offering world-class sandwiches. The bakery also works with disadvantaged youth by providing training in the bakery with the aim of offering legitimate employment opportunities. The bakery school opened in February 2019 in the container units, and teaches a range of bread, pastry, cooking and fermentation classes. Our classes are taught by highly experienced bakers with a passion for the classroom.
COVID-19:
The school has undergone some changes in light of the ongoing coronavirus situation:
- a reduced class size of 6 people
- we ask that all students wear a mask for the duration of the class
- tables moved to maximise social distancing
- screens in the middle of tables
- all breaks taken outside, if possible
- increased hand washing/sanitisation
We ask that customers do not come in if exhibiting any symptoms of Covid-19. We will require you to wash your hands upon entry. Mask wearing is mandated. Please remain socially distant during class.
---