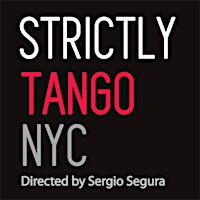 Strictly Tango NYC by Sergio Segura
Strictly Tango NYC is a premier authentic Argentine Tango school. Conveniently located adjacent to Penn Station (35th St. and 8th Ave), the school is strictly dedicated to authentic Argentine Tango with renowned teachers like Sergio Segura; show producer, choreographer, dance researcher and creator of the "Learn Argentine Tango System."
Reputed for its high level of instruction, the school emphasizes individualized attention to each student without compromising fun or excitement. Social dancing as well as Stage Tango are taught. Additionally, the school has a performance company that performs in shows, events and competitions.
With one of the warmest and friendliest environments in the NYC Tango community, the young soul of tango lives in our school. Most of our audience is nice, smart, and professional people who are serious about learning tango.
Our classes are the perfect place to meet new friends and to network with new groups of people. Singles find the opportunity to meet other singles and couples rediscover their relationship.
See you at my school
Sergio Segura
Director
Strictly Tango NYC
500 8th ave, 12th fl
NY, NY, 10018
917-373-7446
---