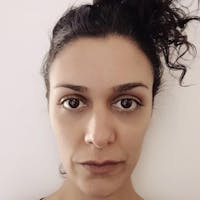 SENSING BODY by Xica Lisboa
SENSING BODY is a mindful movement practice for creatives, performers and non performers, who wish to increase bodymind awareness towards daily life and stage presence. 
XICA LISBOA is a dancing, teaching and coaching artist. She is interested in art and somatic practices as a possibility of distinguished use of time and space within the reality in which we live, regarding to subjects such as attention and connection. Graduated in 'Communication and Arts of the Body', majoring in dance and performance in Brasil, she further studied somatic education, contemporary dance, pre-expressivity, clowning and dance-theater-improvisation - as developed by Cia. Nova Danca 4 in SP. Xica teaches performers and non performers for more than 15 years. She collaborates with dance artists as a performer and dance maker and with performing artists from theater, illusionism, circus and dance as a performance coach (contact sensingbody@gmail.com if you might be interested and want to know more about what a performance coach means). At present she is extending her 'moving image awareness' practice to research face expression and its relations with the rest of the body and different states of being. She is now working in collaboration with performers and dance makers Marcela Reichelt (BR) and Pauline Payen (FR).
---
No upcoming event