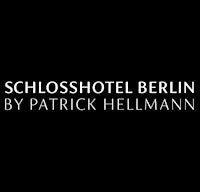 SCHLOSSHOTEL BERLIN by PATRICK HELLMANN
Entdecken Sie in Berlin unser 5-Sterne Hideaway de luxe. Das Schlosshotel Berlin by Patrick Hellmann befindet sich mitten in dem exklusiven Wohngebiet Grunewald und bietet sowohl anspruchsvollen Geschäftsreisenden als auch Urlaubern einen einmaligen Rückzugsort, um dem Großstadttrubel zu entfliehen.
Das von Patrick Hellmann gestaltete Interieur und die Kunstwerke des Hotels in Kombination mit der 100-jährigen Geschichte des Hotels und seinem außergewöhnlichen Service, bieten dem Hotelgast eine unvergleichliche Erfahrung. Erbaut im Jahre 1911 im Renaissance-Stil der französischen Paläste aus dem 18. Jahrhundert, bietet dieses architektonische Meisterwerk von seinen individuell gestalteten Zimmern und Suiten einen atemberaubenden Blick auf den idyllischen Garten.
Die pulsierende Metropole Berlin, nur 10 Minuten vom Hotel entfernt, bietet Besuchern von Kultur und Shopping auf dem legendären Kurfürstendamm bis hin zu Luxusboutiquen und Restaurants alles, was das Herz begehrt. In unmittelbarer Nähe des Hotels warten weltberühmte Kunstgalerien, Museen, Schauspielhäuser und vieles mehr auf Sie.
Zwischen dem Schlosshotel Berlin by Patrick Hellmann und der Neuzeit scheinen Welten zu liegen und doch ist es nur wenige Augenblicke entfernt von allem, was man im kosmopolitischen Berlin sehen und erleben kann.
Discover the most exclusive five-star urban retreat in Berlin. Situated in the heart of the upscale Grunewald residential area, Schlosshotel Berlin by Patrick Hellmann offers a refined sanctuary for discerning business and leisure travelers seeking to escape the downtown hustle and bustle.
The hotel's artworks and interior design by Patrick Hellmann, combined with the elegance of its 100 years of history and exceptional service, provide each guest with an experience unrivaled in Germany. Built in 1911 in the 18th century Renaissance style of the French palaces, this architectural masterpiece boasts breathtaking views of an idyllic garden from individually styled guest rooms and suites.
From the hotel, it's easy to experience the vibrant pulse of Berlin, from the culture and shopping on the legendary Avenue Kurfürstendamm to the luxury boutiques and restaurants just ten minutes away on Kudamm. World-class art galleries, museums, theatres and more beckon from just outside our doors.
Schlosshotel Berlin by Patrick Hellmann is a hotel that feels worlds apart from modern times yet is just moments away from everything there is to see and experience in cosmopolitan Berlin.

BR10 Grunewald Betriebs GmbH
c/o Schlosshotel Berlin by Patrick Hellmann

Brahmsstraße 10
14193 Berlin

Tel: +49 30 895 84 30
Fax: +49 30 895 84 800

Email: info@schlosshotelberlin.com 

Geschäftsführer: Juha Tolvanen
Handelsregistereintrag: Amtsgericht Berlin- Charlottenburg HRB 153086 B 

Steuer-Nr.: 27/021/06011
Finanzamt für Körperschaften I

Choosing LUXURY, expressing YOUR individual identity in the center of BERLIN - offering high class service, luxury and privacy
---
No upcoming event