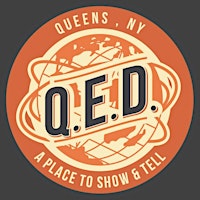 Q.E.D. Astoria
Q.E.D. is the only independent, woman-owned and operated venue for the arts in Astoria, Queens in NYC. It's a labor of love, really. As a small community space, we're very proud to pay artists, producers, teachers and creatives for their work and provide a free space for performers of all types at our open mics.
At Q.E.D. you'll find stand-up comedy shows with performers ranging from the beginner to the very famous. We also have arts and crafts workshops, writing classes, board game meet ups, storytelling, movie screenings, watch parties and more. Our affordable classes and shows are as diverse as Queens itself. With 100 or more events each month, there's something for everyone.
As if that weren't enough, we also have an excellent little book and gift shop with jigsaw puzzles, games, journals, notecards and a nice selection of books.
---