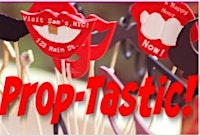 Prop-Tastic! Marketing/Branding for all
Does it seem as though no matter what you do, you can't connect? Your options are limited and your social media content is never good enough? Does it seem as though nothing you are doing is making any difference at all?
Well now you can help yourself, help your friends and help small businesses you frequent to gain exposure, engagement and traction with selfies you post on business social media and to your friends.
How? Its easy! Using branded, fun, engaging props. You and your friends and post, tag and mention the messages you really want people to see all while showing off you
#OOTD
, you favorite foods, your friends and more. With "Prop-Tastc!" you can post great content not only on your social media platforms but also on the platforms of the businesses where you regularly shop and dine.
Simply use these custom, hand-made speech-bubbles and photo-booth props to get the fun started and help the businesses you love to bring in more people for you to engage with. See some of the sample prop messages below to discover how these unique props can turn a dull night into non-stop excitement and potential dates and relationships for you and or your friends while your favorite bar or restaurant also sees an increase in customers and sales!
Everyone wins when you order these one of a kind speech bubbles.
Support your favorite bars, restaurants and boutique clothing stores plus create great content and posts for yourself and help your friends to find dates simply by taking selfies with our props!
Use these 5"x7" speech bubbles, then simply "Check-in" and post to the Facebook page, your own social media and the social media of the town where you are located and watch the fun begin!
With fun speech bubbles like: "Living My Best Life @___________"
And "I'm putting the "She in Shenanigans @ __________"
"Are You Cute? Come Join Me @__________"
Come Join Us For Happy Hour at __________"
"With My BFF! Joinus! Shes Single! "This is Happening."
"I Am Pescatarian. What's Your Sign?"
"Working on Veganism. Don't Rush Me."
"It's my birthday guess how old I am!"
"
#NoFilter
#IMeantTheWine
" and many many more... you and your friends or bartender will have a blast and meet so many new people!
---
No upcoming event