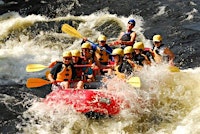 NYC Active Young Singles
NYC Active Young Singles
We are a group of adventurous, fun & professional singles. Check out more & Join us at http://www.meetup.com/NYCAYS/ and the sister group http://www.nycaaa.com/ (NYC Active Asian Americans - sorry this group is for Asian Americans ONLY)
This group is aimed to provide a flatform to create active sport events for active fit young singles, mostly FREE or at a bargain group rate price. This group is for young single professionals to enjoy active, and adventurous activties in group setting and make friends in the process. The group has age range from 20s to 30s to keep this group active and strong. Exceptions will be given to those who can demonstrate some extraordinary athletic abilities.
The main activies include:
adventures, outdoor and sport activities, skiing, snowboarding, ice-skating, alpine skiing, downhill skiing, figure skating, ice dancing, roller-blading/skating, badminton, table tennis (ping pong), archery, tennis, volleyball, swimming, biking, hiking, zip-Line, adventure courses, paintball, kayaking, bowling, fitness, gym, golf, fencing, whitewater rafting, camping, rock-climbing, sports and recreation, and more ...
---