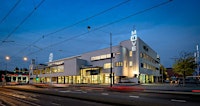 Move Mobility Experience
Move Mobility Experience is een interactieve tentoonstelling voor het hele gezin. Onze gratis tentoonstellingen openen je ogen voor de toekomst van mobiliteit, telkens vanuit een ander thema. Reserveer nu je gratis tickets. 
Move Mobility Experience is an interactive exhibition for the whole family. Our free exhibitions open your eyes to the future of mobility, on the basis of different themes. Book your free tickets now.
---