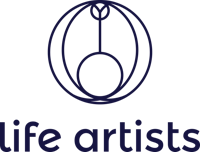 Life Artists - by Barbara Droubay
Life Artists workshops and group events are for creatives, innovators, and entrepreneurs who are getting stuck – who procrastinate, struggle with creative blocks, self-image, motivation, or focus issues – and who because of this stop fulfilling their creative potential. Through a simple and effective system which engages your physical body as the frame of your experience – I teach you how to recognize and recover your "creative flow" as a physical, practical, experience.
"When you change your expression, you get a different experience – enabling you to recognize what's stopping you, make a reality check, and move forward in your creative work."
** If the website link does not work please copy and paste it on your browser.
---