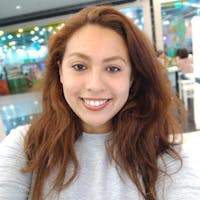 Kat Usop
"Logic will get you from A to Z; imagination will get you everywhere." ― Albert Einstein
Hi there! I organize International Virtual Masterclasses in Design Thinking, UX in Mobile Health, Gamification & TechTalks about Digital Products and Business Innovation.
Who Am I? Your fellow Polymath 
Industrial Experience:
 

Former Adjunct University Lecturer at ENSET Biomedical Engineering School at the age of 23.

"How to Gamify a Virtual Surgical Workspace" Talk at (VRVoice2018) Harvard Medical School
Co-Founder

 of 

TechVerse 

Coworking Space & Incubator, Rabat City, Morocco – the first tech-oriented coworking space in the kingdom.

 est. 2016

HIT | Design Thinking Consultant

 at Medverselab est. 2016

Chief Software Architect

 of Sutures App – Gamified Gastro-intestinal e-Surgery Simulator (Check it 

out

! )

 est. 2016

Chief Design Thinker / Information Architect

 at Sinclair School of Nursing – HEAR App est. 2017

Research Fellow

 at the University of Missouri's Center for Biomedical Informatics - focus on Mobile Based & Gamified Precision Medicine est. 2018

Youtuber @KatUsop

 (App Reviews, 1-MIN MasterClasses, Vlog) est. 2018
Design Thinker (mHealth) for Precision Medicine with Apple Health Collaboration
 Academic Background:
Peer Reviewer

at IEEE Journal of Biomedical & Health Informatics (JBHI)

Peer Reviewer

at Journal for Medical Internet Research (JMIR)

Public Speaker

: USA, Hong Kong, Malaysia, Morocco, Philippines (+30 talks)

 

Author of "Gamified 

Psychosphere

" 

 - available on Google books/amazon kindle @ 2019

Holder of Engineering Diploma in Manufacturing Engineering and Management with Specialization in Biomedical Engineering

 

Advanced Degree (MS.PhD) in Health Informatics

 – App Innovation
#KeepHustling!
Stay in touch!
Twitter: @itskatusop
linkedin:  https://www.linkedin.com/in/katanai/ 
email: kat@medverselab.com 
---