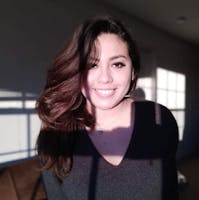 Kat U
Hello Folks, I'm Kat! I share my knowledge and expertise in building digital products and businesses. You are at the right place if you face these problem(s):
✔️You have a big dream to build a digital product but is at a cross-road as to how to go about it
✔️You are afraid of failing and want to armor up with necessary skill-set
✔️You aspire to shift career towards a more digitally-oriented industry but you are not sure how to start
✔️You want to be competent in your workplace with creative problem solving
I help ambitious careerists and entrepreneurs in building their arsenal towards creative problem solving, authentic product design and development. My masterclasses are highly interactive and personalized. I look forward to having you onboard!
Industrial Experience:
2019 recipient of MU School of Medicine's Lindberg Award for Health IT Innovation

Former Adjunct University Lecturer at ENSET Biomedical Engineering School at the age of 23.

"How to Gamify a Virtual Surgical Workspace" Talk at (VRVoice2018) Harvard Medical School

Co-Founder of TechVerse Coworking Space & Incubator, Rabat City, Morocco – the first tech-oriented coworking space in the kingdom. est. 2016

HIT | Design Thinking Consultant at Medverselab est. 2016

Chief Software Architect of Sutures App – Gamified Gastro-intestinal e-Surgery Simulator (Check it out! ) est. 2016

Chief Design Thinker / Information Architect at Sinclair School of Nursing – HEAR App est. 2017

Research Fellow at the University of Missouri's Center for Biomedical Informatics - focus on Mobile Based & Gamified Precision Medicine est. 2018

Design Thinker (mHealth) for Precision Medicine
Academic Background:
Peer Reviewer at IEEE Journal of Biomedical & Health Informatics (JBHI)

Peer Reviewer at Journal for Medical Internet Research (JMIR)

Public Speaker: USA, Hong Kong, Malaysia, Morocco, Philippines (+30 talks)

Author of "Gamified Psychosphere"  - available on Google books/amazon kindle @ 2019

Holder of Engineering Diploma in Manufacturing Engineering and Management with Specialization in Biomedical Engineering

Advanced Degree (MS.PhD) in Health Informatics – App Innovation
#KeepHustling!
linkedin:  https://www.linkedin.com/in/katanai/
Website: katusop.com
Twitter: @itskatusop
---