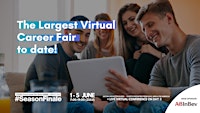 Highered EFMD Shared Career Services
More than 120 companies and 18,000 students and graduates have participated in the EFMD Virtual Career Fair Spring Series.
We are pleased to announce the Season Finale. The largest Virtual Career Fair, sponsored by AB InBev - The world's largest brewery building brands that will continue to bring people together for the next 100 years and beyond.
With top business schools and universities engaged, our global community brings you the Spring Season Finale to a truly global diverse audience. 
Meet students and graduates from 100 schools across 34 countries. 180 nationalities.
At Highered, our vision is to build a world where every student and alumni can grow their talent and have equal access to information and opportunities on the journey to fulfilling their dreams.
---
No upcoming event