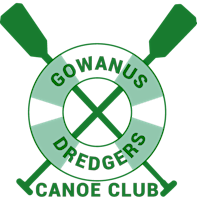 Gowanus Dredgers Canoe Club
Our organization promotes waterfront stewardship and is raising awareness of sewer overflow issues that affect our Gowanus Canal in Brooklyn, NY. Activities are conducted on the canal and shoreline, with occasional voyages to neighboring waterfront communities of Red Hook, Sunset Park and Brooklyn Heights.
Since 1999 the Dredgers have empowered people to care for the Gowanus Canal through advocacy, conservation, and education.  We encourage an understanding of the NY-NJ harbor as a resource for recreation and education as well as a waterway for commuters, tourists and goods. This past season, we logged over 2,000 voyages on the Gowanus Canal with over 1,000 individuals, including more than 200 youth, participating in our programs! As people experience and enjoy our waterfront they become advocates for its revitalization. Our efforts are proving to be fruitful as recent legislation provided funding due to the rise in popularity of paddling on the Gowanus Canal.
---