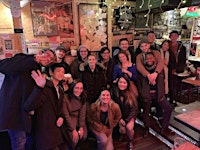 Venese & Friends
Hello! I'm Venese and I've lived in Tokyo for almost six years now. In a city like Tokyo that gathers so many people from all walks of life, it's incredibly fun meeting new people, and it's even more fun to explore Tokyo together with them.
For the past few years, I have shown thousands of people around Japan and have come across so many great places all over the city. Working closely in the industry of tourism and nightlife, I have visited a lot of unique places around Japan regularly. Just like you, I am a foreigner in Tokyo and since we moved here, we have fallen in love with this city!
I would be thrilled to share and explore these places with you! Come and join us on an amazing time around the city and uncover a different side of Tokyo you have yet to see!
---