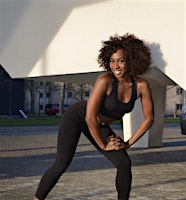 Fitness by Foxy Roxy
Currently based in Amsterdam, Roxanne was born in London where her love for dancing started at the age of 10 where she took up hip hop and contemporary dance for many years. 
She cannot put a date on when she started twerking as it is something that has been part of her culture from a young age, with West African roots it was mostly done just for fun at family parties or while partying with her girlfriends. But one thing is for sure it comes naturally to her.
Now she is ready to take the world by storm by teaching and sharing her passion with others with #TwerkAfterWork that teamed up with her innate love for Dancehall, Afrobeats and Hip-Hop makes her the perfect person to teach you how to work that ass.
My aim's to teach that twerking is much more than shaking your bum; it is a feminist movement that should be used to empower women by taking charge of their sexuality without needing a counterpart and being confident while doing it.
So please join one of her classes so you can see for yourself!
xxx
---
No upcoming event