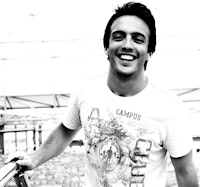 Erol Ün (BachatErol)
Originally starting his dance career with Salsa, Erol (*BachatErol*) found his true passion for dancing with Bachata and became an addict quickly, integrating other interests of his life into it. Besides shaking his hips to Bachata tunes in and outside Berlin, he practices Kung Fu, Tai Chi and does improvisation theater on stage. As part of his TCM practice, he guides people to a more balanced and healthier lifestyle by teaching Qi Gong and coaching them through hard times in their life. He is also a part-time software developer. He has long term experience of singing in several philharmonic choirs, which helps his being become one with every piece of music he hears. He currently practices jazz dance, hip hop, ballet and contemporary.
After noticing many parallels between energy work and dancing, he found out that dance is just another channel through which endless life energy expresses itself. He believes what is natural looks beautiful and he desires everyone to adapt their own natural style of movement, throwing away what is unimportant and forced. His mission with his innovative workshops is to share his love and learnings with other human beings so that everyone can grow together and prosper a healthier, stronger and balanced life. He values authenticity, respect and fun not only on the dance floor but also in his life. He considers himself always a beginner, an empty glass, which allows him to constantly grow with his participants and fellow dancers.

With his ADICTO project, he aims to create a platform for professional and amateur movers from all paths of life to come together and share their passion. His teaching focuses not only on how to dance but also on all the emotions, feelings, energetics and the mindfullness behind that make it possible, accessible and sustainable.
---
No upcoming event