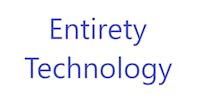 Entirety Technology
Entirety Technology is a Global Technology Solutions provider specializing in emerging disruptive technologies such as - Robotic Process Automation, Artificial Intelligence, Deep Learning, Machine Learning, Data Science, Blockchain, Big Data, Cloud Computing.
We provide consulting and advisory services, technical implementation, development, support, data migration, training, for various technologies including Microsoft Dynamics 365 (CRM,AX,NAV,GP), Office 365, SharePoint, SQL,.net, Salesforce.com, Netsuite, Workday, Artificial Intelligence (AI), Deep Learning, Machine Learning, Data Science, Singularity, Robotics and Blockchain.
Our specialized team of certified consultants based in United States and Canada handle Software programming and application development. Founded by a team of young, dynamic and task-oriented IT experts, Entirety Technology brings a pragmatic approach with proven, real-world solutions to the constantly changing & challenging fields of technology.
With a multi-disciplinary staff that includes expertise in data management, ecommerce, corporate management, web design, project management, customer service, programming and usability, we are committed to developing the best tools and delivering an exceptional customer experience.
---