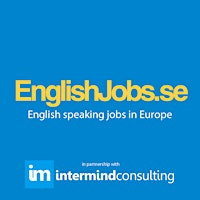 EnglishJobs.se in partnership with Intermind Consulting
EnglishJobs.se specialises in recruiting international talent for companies in Sweden, Norway, Denmark and Germany. Since 2009 we have helped over 2000 professionals connect with traditional companies such as Ericsson, Bosch, P&G, Heineken, Vodafone, Virgin, Skanska, ABB, Volvo and SAAB as well as startups such as Spotify, TrueCaller, Klarna and Skype.
Intermind Consulting provides Research, Growth and Recruitment solutions to Nordic  and German companies operating in international markets.
---
No upcoming event