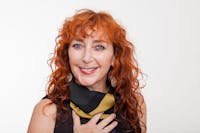 Elements of Birth / Jutta Wohlrab
Jutta Wohlrab ist Hebamme, International Sprecherin, Coach und Trainerin mit mehr als 30 Jahren Berufserfahrung. Jutta Wohlrabs Elements of Birth sind ein Bündel an Angeboten und Informationen: Von Fortbildungsprogrammen für Hebammen und Yogalehrerinnen, zu Schwangerschaft und Geburt, Schwangerschafts- und Hormon-Yoga und vielem mehr. Jutta arbeitet international,  – außer in Berlin auch in Australien.
Jutta Wohlrab is a midwife, international speaker, coach and trainer with over 30 years experience. Jutta's Elements of Birth are a source of information on pregnancy and birth, midwife & yoga teacher training, pregnancy & hormone yoga and much more. Jutta teaches and works internationally and is based in Berlin and Sydney.
---