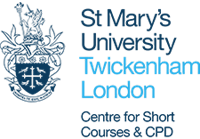 Centre for Short Courses and CPD
St Mary's School of Sport, Health and Applied Science offers a wide range of professional short courses and Continuing  Professional Development training on weekends, evenings and weekdays from first  aid and massage therapy to personal training and reflexology.
Courses are taught by qualified professionals and the majority will result in a recognised qualification. If you have any questions regarding content, structure costs or anything else please do not hesitate to contact the short courses department via the details below.
---