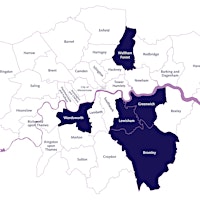 Business & IP Centre London Network Events
Check out our schedule and register your place on our new in-person programme: Kickstart Your Business, taking place at the British Library, as well as across our borough BIPC Local libraries.
Open to all UK business owners across the capital, Kickstart Your Business offers tailored, accessible workshops, which aim to put practical support in place to start and progress with their business development. We have partnered with J.P. Morgan to bring aspiring entrepreneurs and business owners our new two day start-up programme.
Whether it's helping aspiring entrepreneurs turn their business idea into a reality or helping early stage start-ups find the spark they need - our programme and network of five London boroughs delivers grass roots support on your doorstep. Learn the skills, information and know-how you need to build a viable business today. Our BIPC London Local webinars are accessible remotely, wherever you are.
Find out more on our website
Our partner library network includes the following London boroughs:
Bromley
Greenwich
Lewisham
Waltham Forest
Wandsworth
The Kickstart Your Business workshops are:
"Business Research and Information': Protecting what your business does and creates is key to creating value. In this interactive workshop on Intellectual Property, you'll learn the practical steps you need to take to own and defend new inventions, products and brands. Topics include all you need to know about patents, designs, trademarks and copyright. This workshop also covers the fundamentals of using the BIPC's and your library's resources to develop a strategic roadmap for your business. You will be introduced to concepts like the Value Proposition and to tools like the Business Model Canvas, to help you make informed business decisions, plan and offer value to your customer.
'Get Started': In this high energy and practical workshop, you will find out how to set up your business and avoid common start-up pitfalls. By the end of the day, you will have the skills, knowledge and confidence to complete a one page business plan.
The project is funded by the British Library, five participating London boroughs and generously supported by JP Morgan.
---