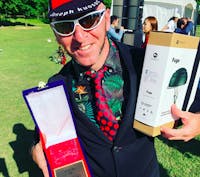 Brompton Tokyo Tour
Hello there I am Giacomo! 
Born and Bred roman but naturalised japanese, two years ago and lived in Tokyo ever since.
I am an ex-pro-Brompton-rider, 2 times (yes twice) World Champion in the category of the "Brompton World Team" raced in London UK where I lived for three years.
I have worked with bicycles all my life and particularly with Brompton bicycles.
If you have never ridden a Brompton before, then the first thing that feels different to any other bicycle is the Upright Riding Position. 
This feature of the bicycle benefits you by giving  a great view above the traffic level but  most of all a Brompton gives you the comfortability of a smooth and beautiful ride.
I hope to see you soon in one of my Brompton tours around Tokyo! 
---