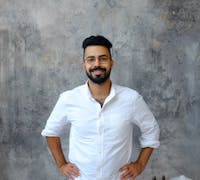 Behrad Mirafshar
In today's fast-paced world where attention is scarce, differentiation means to focus on what you can do best to serve your customers. Finding that sweet spot and overlaying it with an authentic experience will grant you the golden recipe to success. With Bonanza Design, my creative studio, we help organizations find their differentiation point by identifying the most pressing needs of their customers.
.
Time is gold, for you and for us. We demonstrate a NO BS mentality towards our mission. If we can help you, we're all in with you. If we can't, we point you in the right direction. We have experience working in a broad range of industries such as IoT, Finance, Insurance, E-Commerce, Health care, HR & Organizational management, etc.
.
To learn more about Bonanza Design, our people and capabilities, check out our website and blog. Feel free to reach out to me and add me to your network on LinkedIn.
.
.
.
(Abbas) Behrad Mirafshar
Managing Director and Partner
Email: behrad@bonanza.design
Website: https://www.bonanza.design/
---