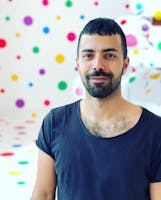 Behrad Mirafshar
With Bonanza Design, my creative studio, we help organizations such as Siemens, Zalando, and Wefox find their differentiation point by identifying the most pressing needs of their customers.
.
We hold periodic events for the public and companies to share how we solve problems using different techniques including design thinking and sprint, service design, etc. What you get is how we solve problems.
.
To learn more about Bonanza Design, our people and capabilities, check out our website and blog. Feel free to reach out to me and add me to your network on LinkedIn.
.
.
.
(Abbas) Behrad Mirafshar
Managing Director and Partner
Email: behrad@bonanza.design
Website: https://www.bonanza.design/
---