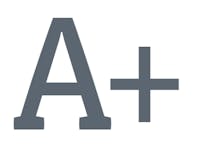 A+ Technologies
A+ Technologies specialize in online workshops, virtual class, startup training for entrepreneurs, organizations, managers and established businesses/startups with focus in emerging and disruptive technologies. Our core values is innovation, creativity, technical development, innovative management, integrity and the establishment of an ecosystem of tech startups.
A+ Technologies provides tech startup programs in emerging and disruptive technologies like Internet of Things, Automation, Robotics, Drone, Medtech, Biotechnology, Fintech, Cryptocurrency, Cybersecurity, Virtual Reality, Augmented Reality, Wearables, Geotech, Agriculture Tech, Automotive Tech, Logistic Tech, Big Data, Artificial Intelligence, Smart Farming, Fitness Tech, Fashion Tech and much more.
Upon Purchase you agree on A+ Technologies Terms and Conditions. 
---